The Barking Geckos 1974-1982
 The Barking Geckos were a loose affiliation of musicians who performed my songs from about 1974-1982 in Lawrence, Kansas. Highlights include our performance at the National Surrealist Party's 1976 convention at Off The Wall Hall and a legendary 1980 performance at the Lawrence Opera House. I still scratch my head at letting this concept drift into the ether.
Participants in no particular order: Brian McKinney, Mitch Rosenow, Kurt Sigmon, Ardys Blake Ramberg, Mary Traul, Lark Mason, Linda Bain, Sally McGee, Eileen Larsen, Susie Schimke, Melinda Estey, Tom Gleeson, Mike Barlow, John Andrews, Joe Edmonds, Dana Elniff, Stuart Doors, Karl Hoffman, Gary Mackander, Tim the Drummer, Dennis Maygers, John Naughten, Kathleen Zacharias, Ron the Bass Player, Pete the Bassman, Randy Mason, Wayne the KC sax man. Thank you all and anyone I'm forgetting.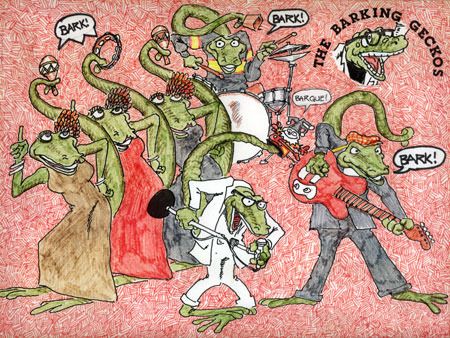 The Barking Gecko Years—a slideshow